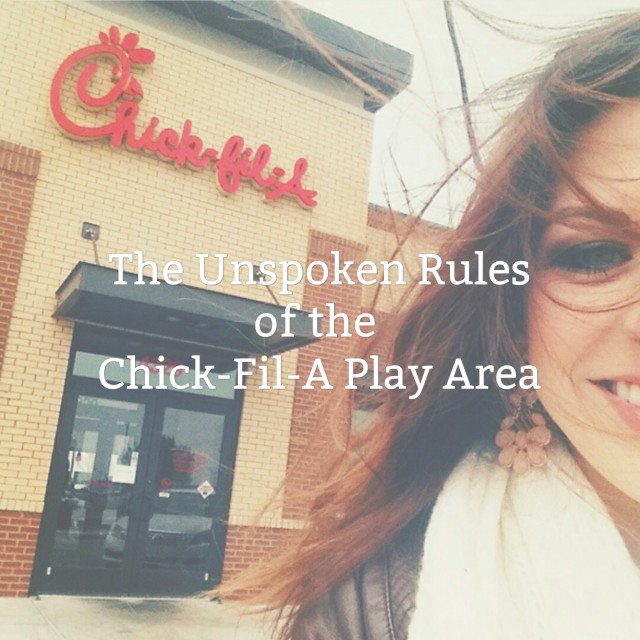 So… I'm updating this post. Because it's my blog, and I can.

So, after saying in the original post that there is a rule about the play area being 3 and under… I was quickly corrected! And corrected. And corrected again.
Do you know what this means?!? No more guilt about letting my 4 and 5 year olds play! You all have set me free! (I sang that. It is important for you to know this.)
Anyway… Here are a few more "suggested rules" that I feel could be posted in the space!
I promise not to judge you. This is Chick-Fil-A and we are all here for the same reason. We ran out of things to do at our house by 11:10 am and needed a break. We are all tired. We are all looking for a few minutes to regain our sanity, and we came here because it is clean, the staff is nice, and we don't feel as guilty about our kids eating the chicken at this place since it hasn't been formed into the shape of a nugget. I don't care what you're wearing, what your kid is wearing, or how down to the bone exhausted you look. This is a no judge zone.
I pledge to uphold the code of the "Open Door Mom Smile Contract." If you choose to let your kids go into the play area alone, and I am already sitting in there with my own children. I am in charge. I will smile at you as you open the door for your kids, and you will smile back. To outsiders, it might appear as if we are simply being pleasant. But it is our contract. With my smile I agree, "Yes. I will make sure you child doesn't do anything crazy or dangerous while you get your lunch set up or cleaned up." Your smile back thanks me. But our contract continues with a final clause. "I also reserve the right to give your child the stink eye or tell them, "We don't do that!!" if they push, hit, kick, lick, or yell at my kid or any other kid for that matter while you are out of the room." You understand and agree to the terms as you shut the door.
I promise not to say anything about your big kids knocking over the tiny ones… so long as your kid isn't a jerk. Look. If your giant nine year old is knocking down toddlers like bowling pins when they come flying down the slide, that's not okay. Right? BUT, if you have a considerate older child who is kind, considerate, or basically babysitting a younger sibling so that you can enjoy your last chicken nugget in peace – girl we get it. Carry on.
I pledge to not come find you… unless you make me. Here's the thing. I totally get sending your kids to play while you clean up or set up the food or just sit next to the window chatting with your friend… so long as you keep an eye on your child at all times. I didn't come to babysit your kid while you have a lunch date. And so help me if your child pushes down the other little girl with the bows in her hair one more time and she comes over to wipe her nose on me because Lord knows where her momma is either… I'm going to have to come out there and find you. Capeesh?
I promise that I will uphold the code of instant momma friendship agreement. You brought your kids to play because you are obviously also a mom of small children. That means, you are probably going through a lot of the same things as I am right now. I might not have spoken to another adult all day, and maybe you haven't either. If I'm here alone, feel free to chat. I bet you and I are a lot more alike than we might notice at first.
What about you? What other unspoken rules do you think should be added to this list?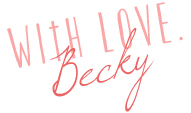 Share this post to pass it on, and then come find me on Facebook! I try and stay in touch with my readers on a personal level through social media!